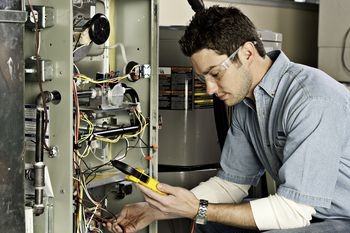 9 Furnace Troubleshooting Tips to Prepare for Winter
You want to be 100 percent certain your heater will work during the winter. Follow these furnace troubleshooting tips, so you always get warm air circulating throughout your house.
Get a Tune Up
Your furnace has likely been idle for months. Hire a professional to inspect it to see if everything is still working OK.
Check for Air Flow 
When you turn on your furnace for the first time, you need to pay attention to the vents. If there is no air, then it could be a sign there is a blockage.
Inspect Thermostat 
Alter your thermostat setting to see if it is still properly connected to the furnace. For homes with an old thermostat, it may be wise to get a new one installed before winter comes around.
Lubricate Furnace Blower 
The furnace blower needs to be oiled annually. You can tell it requires maintenance because worn out blowers will make strange sounds.
Clean Furnace
Even if no parts need to be replaced, cleaning the heater should still be part of your furnace troubleshooting routine. Clear off any dust, which can inhibit the furnace's functions.
Look at Chimney 
Have a professional inspect your chimney. Any clogs can substantially increase the chances of carbon monoxide entering your house.
Repair Drafts
Drafts coming in from windows and doors can affect the quality of the air coming from your furnace. Get a new sealing on those structures if you feel cold air getting inside.
Toggle Thermostat to Heating
Occasionally the reason why you do not get warm air from a furnace is that the thermostat has not been adjusted. Switch it over to heating from cooling if you have not done so already.
Replace Filter
Air filters need to be replaced once every few months. If you do not replace it regularly, then the dirty filter will make the air you breathe in contaminated.
You deserve comfortable warm air. Follow these furnace troubleshooting tips to be confident in your device's capabilities.  
Contact Us Today With Any Questions 1.800.975.0969
For more information on  air conditioner repair, read no further and talk to our professional and courteous staff will help you right away! No job is too big or too small for our air conditioner service technicians. Why choose GREEN? We are fully insured for your peace of mind. We ALWAYS provide upfront pricing to keep our customers happy and make sure the job is done right the first time. And as always offer 24/7 emergency air conditioner repair in Abington, Montgomery County, Bucks County, Philadelphia  and surrounding. Honest. Reliable. Affordable. Choose GREEN for all your air conditioning needs. Call us now 1.800.975.0969