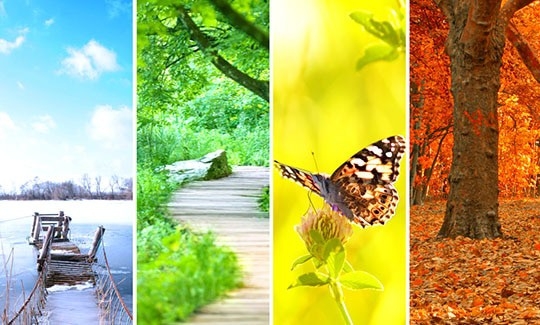 Preparing Your HVAC System for Year-Round Use
Your HVAC system, otherwise known as Heating, Ventilation, and Air Conditioning makes up a large part of your utility system, so their maintenance and repair are crucial to your household. More important than the maintenance is the timing. Scheduling your maintenance regularly is a great preventative method for keeping your system in good shape.
One of the best ways to ensure that you are taking the best precaution is to maintain the part of your HVAC system you're using in the season you need it most. For example, your air conditioning system needs consistent maintenance and repair checks in the summer because that is when you demand the most of it. These regular checks will not only ensure you stay reliably cool throughout the hot weather, it will also prevent breakdowns or systemic problems.
A key timeframe to schedule a service checkup on your system is the grace period between the frigid cold of winter, and before the sweltering heat of summer. Making sure that your system can handle the approaching high demands of the summer ensures you and your family's comfort. Here are a few things to expect from your New Jersey HVAC technician:
Cleaning or replacing air filters: As you A/C unit keeps you cool, it filters air from outside, into your house, cooling it on it's way to you. Keeping dust, dirt and debris out is also a primary function – that's the purpose of the air filter. Overtime, as it collects dust, it begins to pile up, and after a certain point, becomes ineffective, either allowing dirt in, or reducing or completely stopping your air flow altogether.
Clearing debris and removing blockages: When your technician finds any blockages, they are likely to be in the ventilation system. Little pieces of dirt and other obstructions can build up over time in your vents causing a blockage which can also affect air flow.
Whether you live in Philadelphia or New Jersey, it's important that you choose a HVAC technician that is certified, trained, and knows how best to ensure you and your family's safety and comfort all-year round.
Preparing Your HVAC System for Year-Round Use
For more information on  air conditioner repair, read no further and talk to our professional and courteous staff will help you right away! No job is too big or too small for our air conditioner service technicians. Why choose GREEN? We are fully insured for your peace of mind. We ALWAYS provide upfront pricing to keep our customers happy and make sure the job is done right the first time. And as always offer 24/7 emergency air conditioner repair in Abington, Montgomery County, Bucks County, Philadelphia  and surrounding. Honest. Reliable. Affordable. Choose GREEN for all your air conditioning needs. Call us now 1.800.975.0969