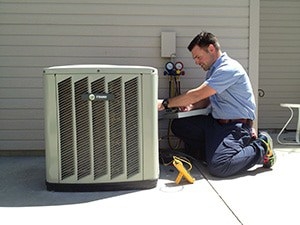 Imbalanced Airflow: Why Buildings Have Hot & Cold Spots
We've all been in buildings where the temperature and air quality suddenly shift from one room to another, or one floor to another. You might be walking through a normal hallway, only to enter a bedroom and get hit with a wall of stuffy, warm air. Or you may notice that as you walk through an apartment complex or office building in the winter, entering a certain area gives you a sudden chill that makes you want to run back the other way.
Especially when outdoor temperatures get extreme, indoor airflow is a critical comfort factor. Whether you're at work or at home, constantly trying to moderate the temperature yourself becomes tiring and distracting – not to mention, it's usually ineffective.
Let's take residential structures as an example. When your home was built, airflow should have been taken into consideration by an HVAC designer. Designers will calculate the exact cooling and heating load of each room, choosing HVAC equipment based on your unique home's dimensions and requirements. Once this is done, your heating and air conditioning units can be installed confidently.
The problem is, not all homebuilders and HVAC designers are highly experienced, which means there's plenty of room for error when doing these calculations. Homebuilding is a complex process with many factors playing into the final result. Even if the workers that designed and built your home did a good job, a home could still end up with imbalanced airflow. For example, old windows may be causing major air leaks because they are not adequately insulated.
Some common signs of imbalanced airflow include:
Feeling a significant temperature difference from room to room
Feeling like certain rooms of your home have minimal protection from outside weather
Having high utility bills even when you don't overuse your system
Always needing to open windows or use fans to improve airflow
Noticing that your HVAC system is running more often than you'd like
If this is an issue in your home or workplace, it is unlikely to go away on its own. You can first try to troubleshoot the problem:
Make sure all registers are open, or experiment (eg. partially close first floor registers to direct more airflow to the second floor)
If you have different thermostats on different floors, try setting them a few degrees apart to correct an airflow imbalance
Go through the building and find small spots and cracks that you can fill with caulk
Clean your air ducts (an obvious solution, but one that is often overlooked!)
In many cases, buildings with severe airflow imbalance require professional assistance. An HVAC company can come in and assess the layout of the building, the placement of air ducts and registers, and the efficiency of your heating and cooling unit to see where upgrades can be made.
If you need help troubleshooting your electric, heating, & air conditioning issues, our HVAC professionals are on call and ready to come to the rescue – Get in touch with Green Heating, Cooling, & Electric if you need help!